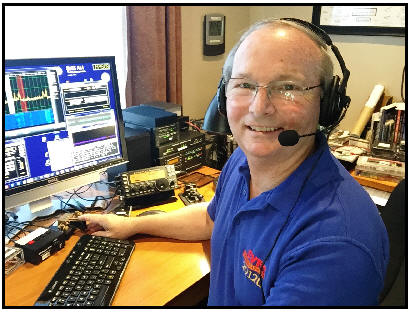 K5PA at Leander, Texas, USA Grid: EM10bn
We Live in Central Texas, 20 Miles NW of Austin
We call it the Transitional Country
Population Approaching 50,000, First Settled - 1845, Established - 1882

TRENDING TOPIC
Ne
w With Last Updates on 9/28/2017
350 Foot Range / VOX or Wireless PTT / DECT 6.0 / 1.9 GHz / AES Encrypted / Low Latency
CLICK PHOTO

Technical
Remote Radio
GPS Satellites for Digital Mode Time Synchronization! To Be Published in CQ Magazine, December 2017
CQ Magazine, December 2017 Issue! Written by Gene Hinkle, K5PA
Go UNTETHERED!, Operate Your Station with a Wireless Headset Newest, PDF Link
CQ Magazine, September 2017 Issue, Written by Jim Millner, WB2REM & Gene Hinkle, K5PA
Why I Operate Remote Radio, QST, July 2017, pp. 66-67 Reprinted with permission from ARRL
Remote Radios and the Law, CQ Magazine, May 2017, pp. 36-39 Reprinted with permission from CQ Magazine
DIY Remote Radio Now, QST, April 2017, pp. 30-33. Cover Plaque Award for Best Article!
Reprinted with permission from ARRL
Remote Radio - Questions & Answers (Q&A) Reprinted with permission
Antenna
The Texas Star, Coming Late 2017
...
501
= 5-Bands, 0-Tuner, 1-Feedline
QEX, July/Aug 2016, Article listed with written permission from ARRL
Solar
Misc.
Using GPS Receivers to Set Your Computer Clock for Digital Modes & Logging in the Field Future Link
Subtitled: (Keeping Time Using GPS Satellites at Remote Locations -- Ideal for Field Day & DXpeditions or Home) CQ Magazine, Accepted for Publication, Winter 2017
General Interest
The Ham Shack, circa 2015-2017 New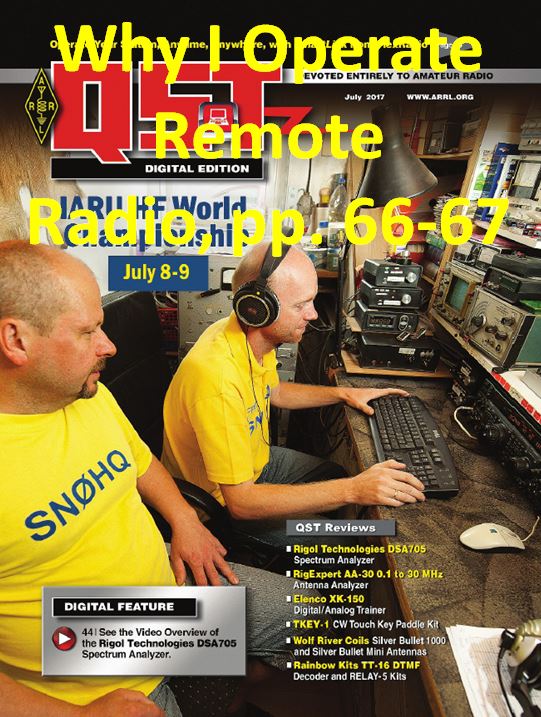 The History of My Ham Stations Updated
My Visit to the London Olympic Special Event Station, 2 O 12L
Station QSL Cards, Pertinent Information & Operating Awards Updated
Favorite Webs, Blogs, Sofware, Mult-mode, etc.
Bicycle Mobile (IC-703+ w/Remote Head) ( Download PDF File )
Bicycle Mobile (FT-817) ( Download PDF File )
ARRL Field Day, Always the 4th Full Weekend in June
2017, Field Daycation, Leander, TX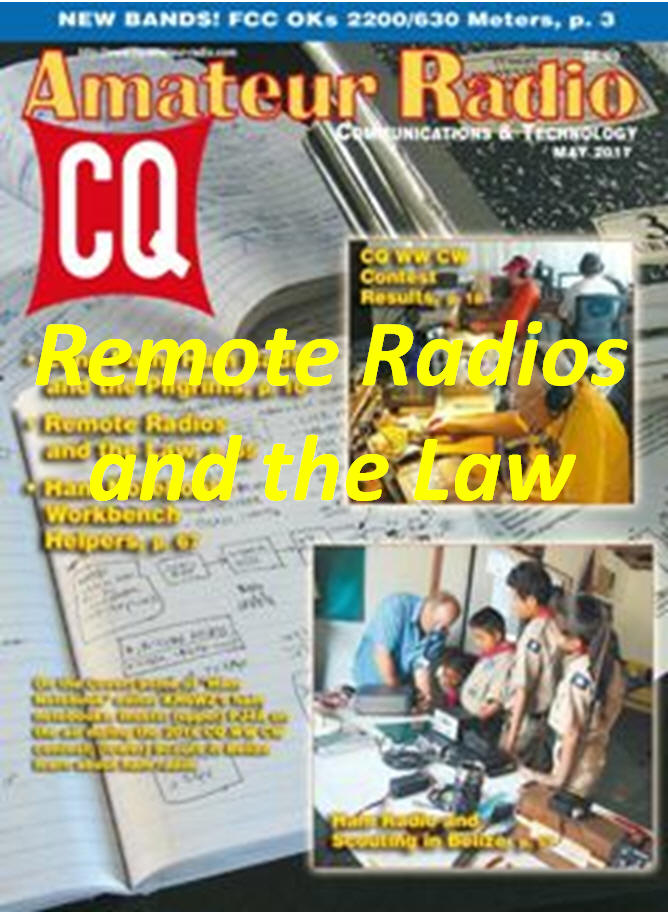 2016, Field Day at the Homestead, A True Staycation FD, Leander, TX
2014, Wildblumen House, Fredericksburg, TX
2013, Wildblumen House, Fredericksburg, TX
2012, Hillside Cabin, Fredericksburg, TX
2011, Hillside Cabin, Fredericksburg, TX
2010, Inspiration Hill, Luckenbach, TX
2009, Hummingbird, Fredericksburg, TX
2007, Special Event Station - W5Z, Luckenbach, TX
2006, Special Event Station - K5W, Luckenbach, TX
2004, Special Event Station - K5W, Fredericksburg, TX
2003, Battery & Solar - Lake Buchanan, TX