The Ham Shack, circa 2015-2017

This is my station in 2015-2017. I have successfully migrated the main rig from my IC-756 PRO-III to my Elecraft line SDR.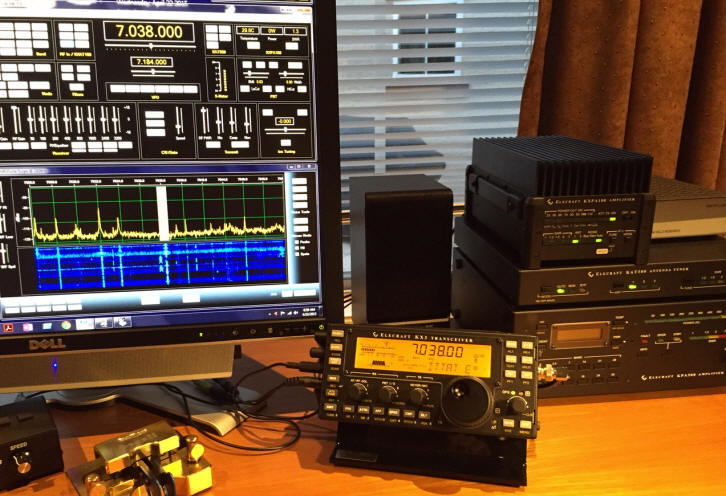 Elecraft KX3 QRP SDR Radio, 160-6 Meters
Elecraft KXPA100, 100W Amplifier
Elecraft KPA500, 500W Ampflifier
Elecraft KAT500, 500W Antenna Tuner
SDR Software User Interface, Win4K3 Suite, Internet URL: http://www.va2fsq.com
2nd View of Station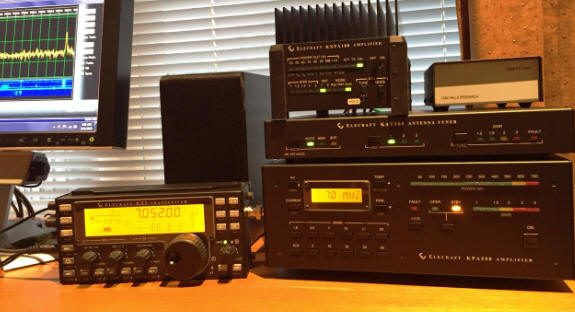 I still maintain an ICOM radio setup for HF digital work and for 2 Meter VHF and 2M/440MHz FM.
The radios include the ...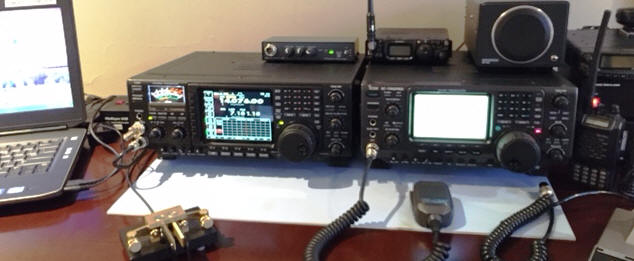 ICOM 756 PRO-III (160-6M), 746PRO (160-2M), and the
Yaesu FT-8800R (V/UHF) and FT-817 QRP (160-2M, 440MHz).
My current antennas includes:
| | |
| --- | --- |
| Antenna Type | Bands Covered (with Antenna Tuners) |
| 160m full size dipole | 80m, 60m, 20m |
| End Fed 80m Half Wave Dipole | 80m, 40m, 30m, 20m, 17m, 15m, 12m, 10m |
| 40/30m full size vertical | 40m, 30m |
| 20m full size vertical | 20m, 17m |
| 6m MOXON beam | 6m |
| 2m, 4 element horizontal beam | 2m |
| 2m/440MHz vertical | 2m, 3/4m |
Vendor URL links:
DX Engineering DXE 4030VA-1, https://www.dxengineering.com/
MyAntenna EFHW-8010-1k, http://myantennas.com/wp/product/efhw-8010/;
LNR, R600 Tuner, http://www.lnrprecision.com/endfedz/;
Arrow Antennas, Model GP 146/440 Ground Plane, http://www.arrowantenna.com ;
Par Electronics, Model SM-50 MOXON, 6m beam, http://www.parelectronics.com/stress-moxon.php .
I also have the DX Engineering 8-port, RF switch remotely installed to select antennas using one feedline.
Here are some photographs of the installation.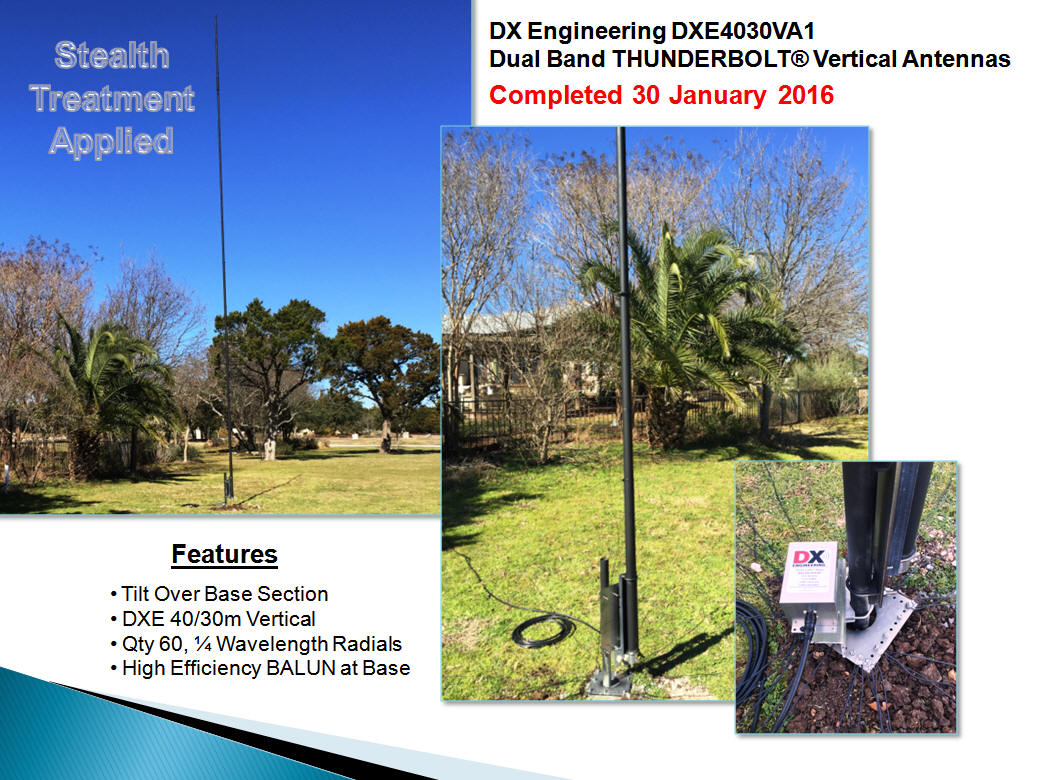 Center Support for 160m Dipole with 1:1 BALUN with Twin Lead Feed
and EFHW-8010 Antenna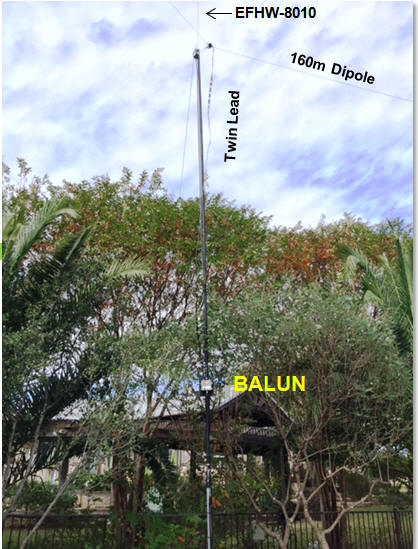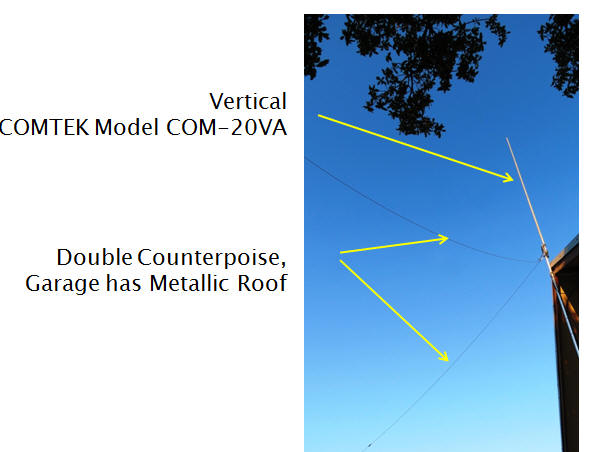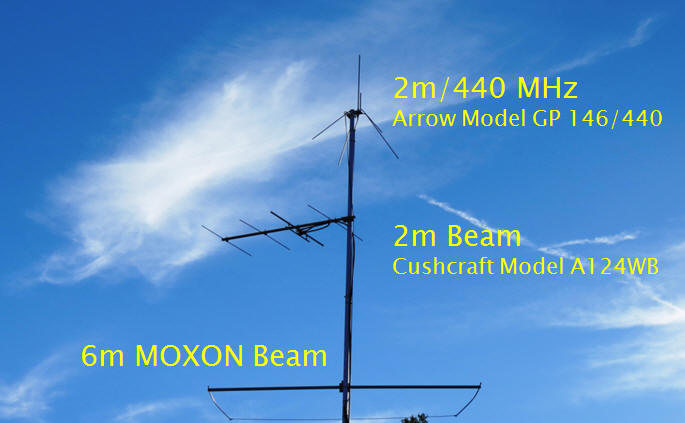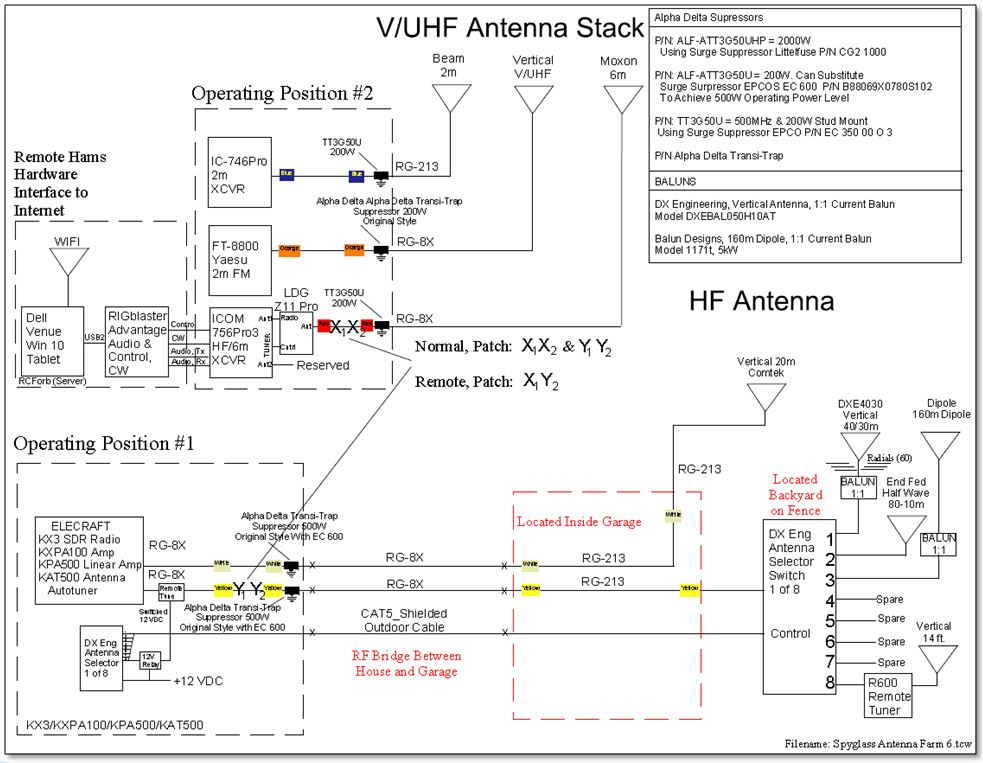 .