Dodge Durango HF Mount Details
Yaesu FT-817 / Tokyo Hi-Power HL-50B Amplifier / LDG RT-11 Remote
Tuner / Bumper Mount HF Antenna
(Product Manufacturer's Web Sites Given at Page Bottom)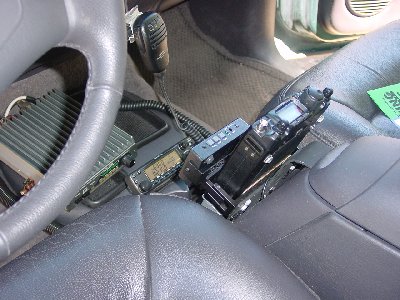 Arm Rest Storage Area Closed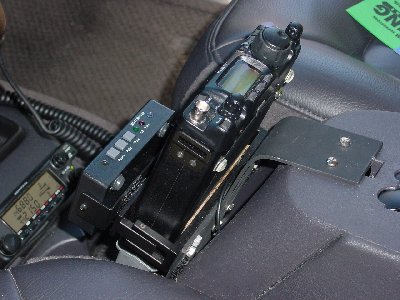 Above, Arm Rest Open Showing Angle Bracket Mount
Dodge Durango 2000. FT-817 with HF Antenna Mount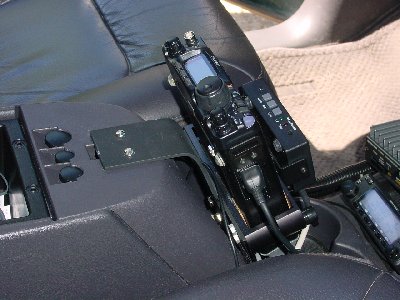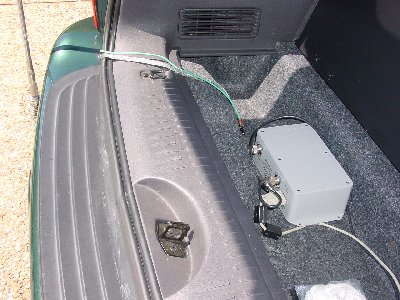 Above, Arm Rest Open Showing Angle Bracket Mount From Passenger Side. LDG RT-11 Remote Tuner in Back Storage Area.
Note the HL-50B Tokyo Hi-Power 50W HF Amplifier on Right Side Middle. Gray Cable is for RT-11 Control. Green Wire and Braid are RF Out.
RT-11 Remote Control Head Velcro Mounted on FT-817 Bracket.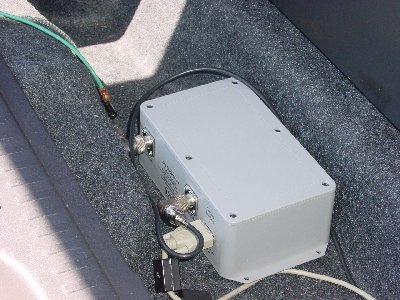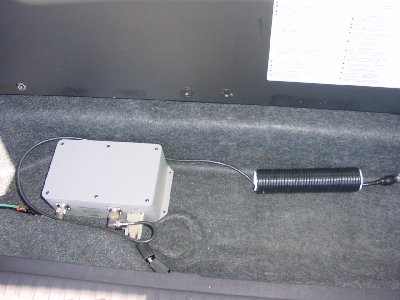 RT-11 Tuner Close-up. Gray Cable Has RF Beads Installed on It. RT-11 RF Input Coax has a Current Balun (Coax Coiled on PVC Form).
The Tuner Output has a BNC to Binding Post Adapter that has the RF Output Green Wire Connection to the Antenna (Below) and Chassis Ground.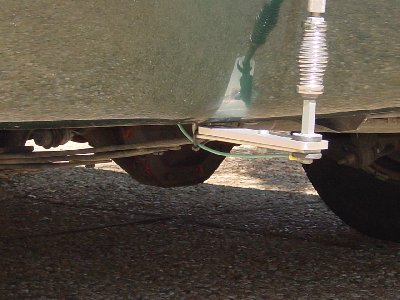 Mobile Mount is a Large Right Angle Bracket (About 12" on a Side)
Hole Drilled in Frame Underneath Durango Mount the Rt. Angle Bracket.
Angle Iron Proceeds Under Bumper Where a Heavy Aluminum Plate Bolts to It.
Standard Heavy Duty Mast Mount Bolts to the Aluminum Plate.
Component List and Web Sites

Model
Manufacturer
Click on Pictures for Manufacturer Link
FT-817
Yaesu
HL-50B
Tokyo Hi-Power Labs, Inc.
RT-11 Remote Unit
LDG Electronics Inc.
RT-11 Remote HF Tuner
LDG Electronics Inc.
FT-817 Mobile Bracket
Mountain-Ops Communications
HF Antenna, Hustler Mast Mount with Resonator
New-Tronics Antenna Corporation