Kenwood MC-60A Microphone Modifications for ICOM Radios
The MC-60A Mic
The MC-60A is a nice desk microphone that uses a dynamic element, amplifier in the base, and UP/DOWN buttons to control the radio frequency.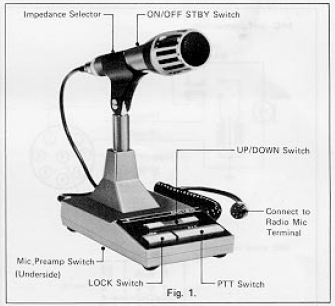 Caption: MC-60A Dynamic Element Microphone
Having used with Kenwood equipment, I wanted to convert the microphone for use with ICOM radios. ICOM's normally use a electret element that requires a small bias voltage for proper operation.
The original user manual is shown here. Note the manual does have an error on the schematic that I will describe in the next document.
User Manual (Original), Kenwood MC-60A MC-60A UM Original (PDF)
The manual for the MC-60A unfortunately has an error in the schematic that can lead to frustrations. I have diagnosed the problem and made corrections in the attached document (PDF formatted file).
Modifications to Kenwood MC-60A MC-60A ICOM Mods (PDF)