The Amazing Elecraft KX1 QRP Radio
Ideas for a Carrying Case

Introduction
The most amazing transceiver in terms of design/packaging/features/portability/trail friendly was announced by Elecraft [http://www.elecraft.com/] in 2003. This radio with all accessories offers 40/30/20 meter CW operation and includes a digitally synthesized frequency control with LED frequency readout, microprocessor operation, internal batteries, logbook illuminating LED lamp, automatic tuner unit built-in, and a side mounted iambic key (keyer built-in also). The KX1's enclosure measures just 1.2"H x 3"D x 5.3"W. Oh, and by the way, the complete system is delivered as a kit with excellent instructions and support.
A VERY interesting write-up on the evolutionary development of the KX1 can be found at the Adventure Radio Society (http://www.arsqrp.com) web site ( go to article at http://www.arsqrp.com/ars/pages/back_issues/2003_text/1203_text/N6KR.html ).
KX1 Radio System
The KX1, despite all the features built-in, still needs an external wire antenna and headphones [or external speaker (amplified)] to operate. So although it is possible to put the transceiver in your pocket and carry the wire antenna, headphones, and possibly spare batteries [rig has internal battery holder (AA size)] and also an external 12 VDC input jack. It is very nice to know that by picking up one carrying case, all your field ham radio needs can be carried with you. Since I have built the transceiver and operated it, I have been in search of a complete solution. Although the ideas presented below are not unique [I read a lot of e-mails on the Elecraft reflector] my implementation may give you and others additional ideas.
Pelican to the Rescue
My solution was to use gasket sealed carrying cases from Pelican Products [http://www.pelican.com]. My first attempt was to use the Pelican Micro Case Series, Model 1060 [external dimensions about 9.5"L x 5"W x 2.5"H]. This case holds the KX1 quite nicely. However, to do so, the iambic key and to be unscrewed from the side of the KX1. I wanted something that could hold the radio fully configured and ready to go.
My second Pelican case that turned out really well is the Pelican 1150 case [external dimensions about 9.25"L x 7.5"W x 4.25"H]. This case has a carrying handle and is likewise gasket sealed. It also includes Polyurethane foam padding that is easily cut with a sharp knife to provide holding areas for its contents.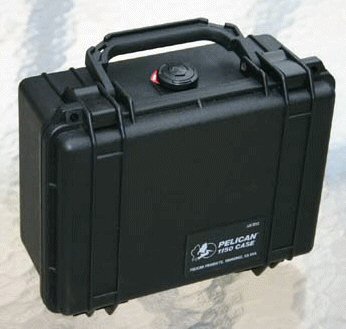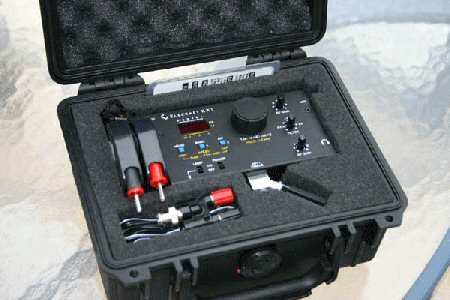 Pelican Model 1150, Case Closed. Case Opened Up. See Material Lists Below.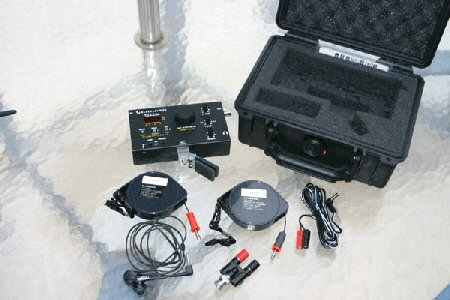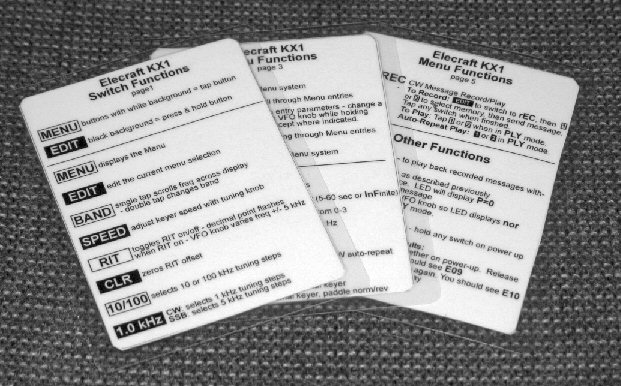 All Components Out of Case. Notice Laminated Cards for KX1 placed in upper case.
(Card's Info Courtesy of Ken, VE3HLS)
The headphones are stored in a small cutout below the KX1 storage area.
Here are the particulars:
Portable Reel Antenna
The antenna system uses two portable "reels" purchased from Radio Shack [about $10 each]. The antenna wire in the reel was modified in two ways. First, each reel had its connector cutoff and a banana plug attached in its place. This plug fits the BNC-Binding Post Adapter. The reel with the stock 23 ft. length was unchanged and label "counterpoise" to indicate the ground wire [its banana plug was covered with black heat shrink to color code this reel. The other reel was modified by adding another 5 ft. of #22 AWG stranded black wire. This made the driven wire about 28 ft. long. For the KX1, the automatic antenna tuner is designed to match to a wire around 24-28 ft. and a counterpoise about 16 ft. long according to Elecraft. This is the reason for adding the additional length of wire to the driven reel element.