EMI Filters for Audio Equipment
Background
I was receiving audio interference into our television audio system due to the near placement of the audio video equipment to my antenna farm. Past measurements indicated the problem was due to direct RF interference into the audio stereo channels, including Left, Right and Woofer Channels. After testing different solutions, the best was a small a Pi C-L-C filter for the Left and Right stereo channels and subwoofer channel.
Design
The design of the filters was done using the LTspice simulation package that is available from Linear Technology Corporation (LTC). This is a free download from the internet and allows circuit description in schematic format, netlist generation and simulation. Plotting of input and output waveforms is also possible.
EMI Filter (PDF file) ( Download PDF File )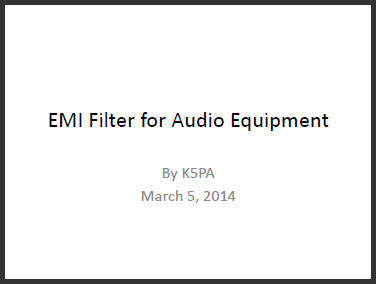 Click image to download PDF file.
Results
After installing the filters at the subwoofer input and the audio system inputs (L-R channels), tests were performed using CW transmitting at 700 Watts RF on 20 meters. This was a problem band before. Results were impressive. All interference was below detectable levels indicating excellent performance.
-Copyright © 2001-2017 K5PA Home Page
e-mail to: k5pa@arrl.net