Digital Voice Keying (DVK) on RIGblaster pro
N1MM Plus+ and Ham Radio Deluxe Radio Interfaces
I want to share my experience with setting up DVK on the RIGblaster pro radio interface to allow audio from the microphone (mic) and stored audio messages.
After a recent contest event, I decided that it was time to figure out how to used stored audio messages from my computer to key my radios. I use either ICOM IC-746Pro and IC-756 Pro-III radios in my ham shacks but the radio type should not influence the DVK settings.
The RIGblaster pro unit is connected to my computer using audio cable connections from the "COMPUTER: AUDIO - LINE IN" and "COMPUTER: AUDIO - LINE OUT" 1/8" stereo phone jacks. I am not connected to the "COMPUTER: AUDIO - MIC OUT" connections on the computer. I had played around with the concept of the audio card in the computer providing frequency response enhancements but could not get this to work with the built-in audio card in my DELL XPS 8300 tower computer. I thought this would be the route to making my DVK work but it turned out not to be the case.
Related to the MIC INPUT wiring, the RIGblaster pro User Manual (page 27 in my version Rev-6, May 2004) gives information for setting a MIC OUT JUMPER internal to the unit to allow use of the "COMPUTER: AUDIO - MIC OUT" connection to the computer's MIC IN jack. As discussed in the above paragraph, the jumper was unnecssary and left in the factory default position.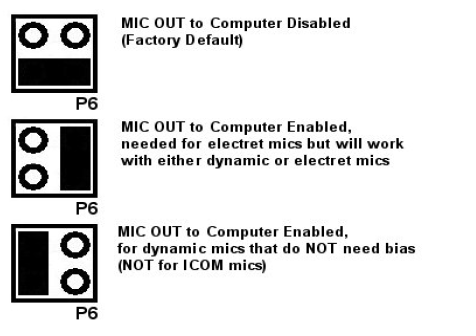 Caption: MIC OUT JUMPER P6 -- Leave in the Factory Default Setting
The software applications N1MM Plus+ and Ham Radio Deluxe can use computer sound cards to provide DVK and/or digital mode interfacing. The following gives the configuration panel settings for both programs.
N1MM Plus+
I setup the audio files for DVK in the program. I used Audacity for digitizing my voice but any program could be used if it can provide the *.wav wave file extensions. The Audacity provided the tools needed to clip and shorten the audio files to be precise. The wave files were placed in the audio file folders as required. Refer to the N1MM Plus+ documentation on the audio file locations ( e.g., \Libraries\Documents\My Documents\N1MM Logger+\Wav\Callsign ).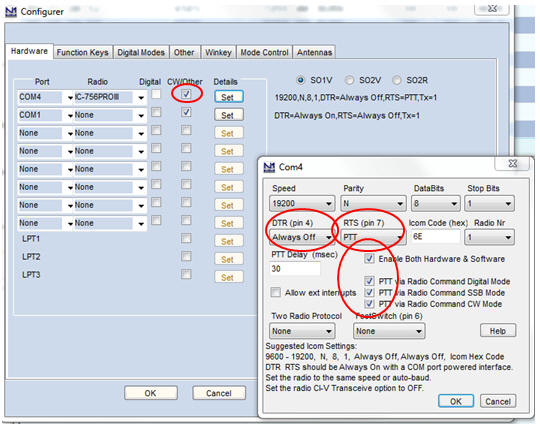 Caption: N1MM Plus+ Configuration User Interface
Ham Radio Deluxe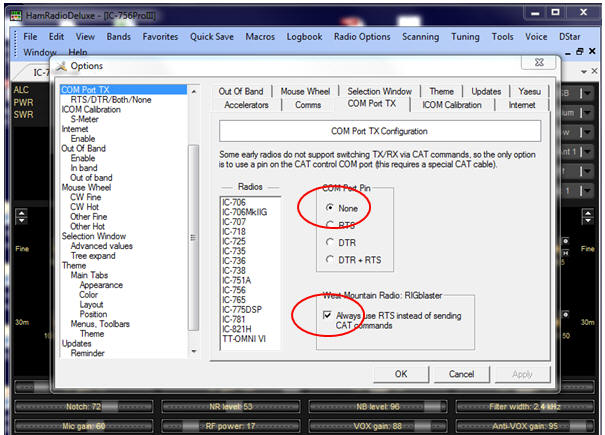 Caption: Ham Radio Deluxe Configuration User Interface