Fredericksburg, Texas
W5GW K5PA AD5HP
W5F, ARRL Field Day 2014
North West of Fredericksburg
The Hill Country Mountain Toppers Association (HCMTA) operated from the Wildblumen House located 4 miles North East of Fredericksburg, Texas this Field Day. This was the annual ARRL Field Day event. W5GW, K5PA and XYL AD5HP operated Class 1A. Gary's XYL Verlenne provide tons of encourangement and prepared an excellent meal on Satruday night for the ops. We operated a single ham station setup.
The primary objectives are to hone skills to meet the challenges of emergency preparedness and to test our abilities using Amateur Radio. Each Field Day we seem to ask ourselves the recurring question, "What did we forget to bring this year?"
Antenna Installations and Ops
Antennas included the Buddipole Vertical, Alpha Delta multiple band wire dipole, 40/15 Meter dipole pulled up into the beautiful oak tress.
The Buddipole vertical antenna was made specifically for 20 meters.
Logging and Connectivity
The stations logged all contacts using N1MM Logger. N1MM makes multiple ops very simple to input QSO's and check for duplicates. It also provides continual scoring.
Claimed Scores
In process
Station Pre-Planning
Planning for this year's event started months prior to Field Day and we all met several times to discuss the types of radios to be used, the antennas available, selection of an appropriate site for our families, etc. Once the house was secured, Google Maps were used to assess the property layout for trees and house layout. Multiple sites on the lot were found as candidate locations for the verticles and wire dipoles.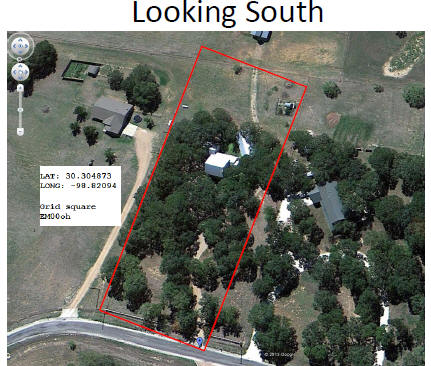 We also made plans for Plan-B situations meaning we decided which alternate radios and antennas would be brought as backup having learned these lessons many times from our past.
Field Day 2014 was a lot of fun and we look forward to next year.
-Copyright © 2001-2014 K5PA Home Page
e-mail to: k5pa@arrl.net